We specialize in Freestanding Limestone Blocks, also called Stacking Stone Blocks, Retaining Wall Blocks, or Butter Blocks.
Natural Texas Limestone is delivered from the quarry to you at a fraction of the retail price.
Culp & Son Quarry is a family-operated company in Florence Texas. Owner Richard Culp has been in the stone business for over 40 years. 
Integrity, Honesty, and Accountability have been our core values since the start 

Call 512-496-6828 and ask for Richard.
We can arrange for a hassle-free and on-time delivery.
Approximate block sizes and weight:
2'x2'x5'        2800 lbs
18"x2'x5'      2200 lbs
18"x18"x5'   1800 lbs
2'x2'x4'         2000 lbs
Special delivery prices of Building Stone, Limestone Blocks, Stacking Stone Blocks, Butter Blocks, and Retaining Wall Blocks to the following locations.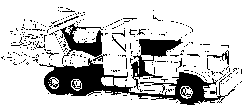 We are approximately
40 miles to Austin, TX
106 miles to San Antonio, TX
135 miles to Fort Worth, TX
137 miles to Arlington, TX
146 miles to Dallas, TX
159 miles to Garland, TX
162 miles to Houston, TX
164 miles to Plano, TX
211 miles to Corpus Christi, TX
252 miles to Laredo, TX